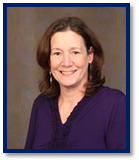 Jo Ann Mattson has taught students and mentored teachers in technology integration in all levels of education: elementary, junior high, secondary, undergraduate and graduate levels.
Jo Ann is the Director for eLearning at Fontbonne University in St. Louis.
She recently served as an Instructional Designer at Missouri State University (2011-2013). In this role, she consulted with faculty and members of the instructional community to create online, blended and traditional courses. She worked with faculty to find the appropriate technology that promotes student learning and support student learning outcomes.
She was Technology Consultant for the Archdiocese of St. Louis (1999-2012). She worked with principals, technology coordinators, and teachers to integrate technology into the curriculum.
Jo Ann was the Technology Coordinator at St. Mary's High School in St. Louis from 2004-2010. She provided training to the faculty and staff in both software applications and technology integration within their curriculum. She created online professional development courses for faculty to learn how to teach in the 21st Century using technology.
Jo Ann received a MAT in Educational Technology from Webster University in 2000. She also holds a Missouri teaching certificate (elementary education).
MoDLA Service
Member Since 2012
2013-2014 Class of Directors