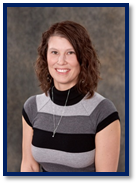 Mindy began her career at OTC in 2001 as an Accounts Receivable Clerk and later moved to the Learning Resource Center. In 2009, Mindy began working in OTC Online as the Instructional Technologist which changed to the Coordinator of Online Instructional Design and Web Development. She also began teaching online developmental math courses in 2009.
As the Instructional Technologist, Mindy served as the primary point of contact for students and instructors using Blackboard. As the Coordinator of Online Instructional Design and Web Development, she coordinates the management of the master content shells for online courses and facilitates appropriate updates and revisions. She ensures faculty are provided with the most up-to-date information, workshop availability, and collaboration through the management of the Departmental Website, Online Faculty Resource Center, Facebook, and Twitter, as well as researching, promoting, and creating multimedia tools and online resources for course development and delivery. Mindy models exemplary online course development and delivery by assisting faculty in presenting, facilitating, and revising online course content. She also provides instructional tools designed to guide students and faculty through processes and procedures indicative to online learning.
An active member in the OTC community, Mindy has served on the Accessibility Taskforce, the HLC Education and PR subcommittee, the Committee for OTC Online, and the Grievance Committee. In 2012, Mindy achieved a Sloan-C Online Teaching Certificate and has been selected to attend the 2012 Institute for Emerging Leadership in Online Teaching and Learning through the Sloan Consortium. She is also a graduate of the 2007–2008 inaugural Leadership OTC class. An active member of the community, Mindy is involved in Relay for Life, Tree of Life, and her church.
Her previous experience includes working as a part-time reference assistant for the Springfield/Greene County Library. Mindy holds a B.S. in Mathematics from Southwest Baptist University and an M.L.S. from Texas Woman's University.
MoDLA Service
Member Since 2010
Secretary 2010-11, 2012-13, 2013-14
Board of Directors 2014-2015